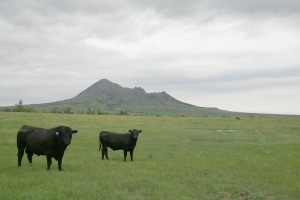 It's bull sale season in the region. Like you, we at The Cattle Business Weekly enter into this time of year with excitement and a little trepidation. A bull sale season on the farm means tasks like selecting bulls, booking advertisements, clipping bulls, lining up sale day help, setting up pens, and much more. Those duties are usually met with extra hours, extra phone calls, extra manpower and extra coffee. The same can be said for staff of CBW. We spend a little "extra" this time of year as well. Our ringmen are gearing up to take in a few extra hours of windshield time as they travel to sales the next four months. I know they love this time of year for the cattle and people they get to see, but they are also thankful to pull into their homeplaces and give the wheels a rest for awhile come May. CBW office staff has been using up extra creative juices in the designing of sale catalogs and flyers and churning out newspaper sections right and left. I have been busy burning up any extra battery my computer has as I coordinate the weekly newspaper content and sale reports that the ringmen submit. This is my ninth bull sale season with CBW.
There are still a few things that take me by surprise but there are also areas of the job that I have mastered. I'm sure that is how many of you feel about your bull sales. There are tried and true things – the menu, the auctioneer, the sale help – and then there are those hiccups that happen along the way . . . your favorite bull broke its leg, you can't find the letter you wrote for the sale catalog and now have to rewrite it (and it was good too, damn it), or the winter storm of the season is set to settle in on your sale date. When the work hours get long and the hiccups happen we all rely on something different to get us through it. For me it's an extra prayer, an extra meal frozen in the freezer for the family, an extra laugh and a little extra help. Those extra prayers – whether you say them or have someone say them for you – do matter. So keep the faith, especially this time of year when sale season collides with calving time. I share at right a freezer meal recipe that my mother and I tried as we prepped for calving season last year. It was approved by kids, husbands and ranch help so it made it into the bull sale season freezer meal lineup this year as well. I can always rely on one or more of the CBW staff to give me a laugh during this time of year. Kris Petersen in North Dakota loves it when bull buyers are decked out in NDSU garb. He readily takes a photo of them for me (an SDSU alumni) to use in the sale report. When I questioned his motives last year he just told me, "Quality bull buyers know quality football." There is a part of me that wonders after 5 FCS na
tional championships if North Dakota just might be on to something. The extra editorial help I receive at CBW is monumental. We have always depended on high quality freelance writers at the newspaper, and dur
ing bull sale season – when the page counts creep past the 60 mark – they are invaluable in keeping content current and relative to you producers. The bylines of Kindra Gordon, Gayle Smith, Wendy Sweeter, Tr
inity Lewis, Stephanie Siebrandt, Lura Roti, Jane Green and Rita Brhel have repeatedly graced the stories of CBW over the years and we thank them for the commitment to us and to the cattle producers of the region. Our newspaper wouldn't be what it is without them. This past year, CBW welcomed two fresh faced, up-and-coming ag communicators in Sydney Sleep and Kiera Leddy. These are two young women who have a desire to be involved in the agricultural industry and we look forward to having them as regular contributors to CBW publications. Yes, there is lots to do during bull sale season for us all, but we wouldn't have it any other way. We at CBW pride ourselves on helping lighten your Bull Sale To-Do List. Thank you for your trust in us to get the job done and best of luck this sale season!
© 2016 Codi Vallery-Mills