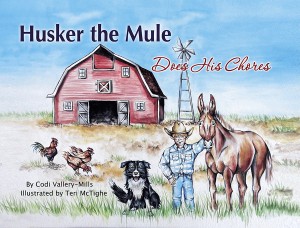 The latest in the Husker the Mule children's book series is out!
The second book picks up with young Carter and his new mule, Husker, now at home and learning what it means to do chores and the importance of them to a family. Based around the lesson, Many Hands Make Light Work, children will read about the chore "adventures" of Husker and Carter and realize maybe their own aren't so bad after all.
Once again illustrated by the award-winning western artist, Teri McTighe of Faith, S.D., the book is delightfully brought to life for readers.
It may be purchased at The Olive Branch in Belle Fourche, Sturgis Photos & Gifts or on Amazon.