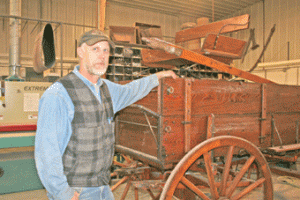 Hansen Wheel and Wagon shop recreates the wagons of the American West
By Codi Vallery-Mills
We have all seen the old western movies where outlaws try to heist a stagecoach. A gunfight ensues, horses are encouraged to run faster and some high collared city gal succumbs to the excitement and faints.
Many of us don't notice the stagecoach that is moving across the screen at high speed. Instead, we are caught up watching the fight for the strongbox, which may hold gold and passenger treasures. All but one of us that is, as Doug Hansen likely watches the way the wagon moves, if it is properly built for its terrain and use, and if the wagon is authentic to the movie's script and era.
Hansen is founder of Hansen Wheel and Wagon Shop at Letcher, S.D. just north of Mitchell, S.D. He has been making wagons – buckboards, spring wagons, chuck wagons, sheep wagons and stagecoaches– since 1978. He explains that it is a hobby turned business.
"I was on my way to an auction to look at a wagon with my grandfather, when he mentioned to me that since I was getting busy with restoring and building wagons, perhaps I should consider turning my hobby into a business," says Hansen.
He did, and today Hansen Wheel and Wagon is known nationally for its restoration, preservation, and customization of wagons. Ten full-time craftsman work on various wagons, which according to Hansen can take up to 1500 hours to complete. The employees hold the same skills and titles as the wagon makers of yesteryear.
The blacksmith takes care of all the ironwork, forging pieces for each wagon's needs. The wheelwright is responsible for building and repairing wagon wheels. The painter is obviously responsible for the finish, but it isn't that simple as matching the colors and detail of authentic wagons can be a task. The upholster takes care of the elegant, yet sturdy interior of the wagon. Other titles associated with wagons are the coach maker and the wainwright, which is a wagon builder.
Handling History
Each time a wagon comes into the Hansen Wheel and Wagon shop a little piece of history is either created, preserved or remembered. And it is that history that drew Hansen to wagon making in the first place. He has enjoyed learning about the various types of wagons used overtime in different regions of the U.S. – and the world for that matter.
He could be called a connoisseur of wagons, but he isn't a snob, as you can tell by the way he speaks of wagons – he loves them all. The stagecoach does make the top of his list for favorites though. He can't ignore the mechanical feat of how the body of the coach is suspended by leather straps.
"Mechanically it was an engineering marvel," says Hansen. "It has a historical romance to it, and it played a role in developing the American West."
The chuckwagon is also of special importance, especially since this region is cattle country. Hansen says the chuckwagon in the days of the cowboy, parallel the icon of the American Cowboy in importance.
The "cookie", or camp, cook took the chuckwagon ahead of the cowboys and the cattle to set up camp. This person needed to be cognoscente of what would make a good place to hold up cattle overnight. They were also the person that would meet trouble – outlaws or Indians – first as they were at the head of the cattle drive.
Wagon Makers
Most wagons were made by east coast companies, like Studebaker and Abbot-Downing & Company. Before Studebaker was a car maker it was a wagon maker for farmers, miners and the military.
Best known for its Concord Stagecoach, Abbot, Downing & Company had a long history operating in Concord, New Hampshire.
Hansen explains that when a rancher in the Dakota Territory would order a wagon from the company catalog they didn't telegraph a model number, but instead a word. All the wagons were associated with a word in the dictionary. Type the word "joy" you would receive one wagon, type the word "jubilee" and you would have ordered a different wagon.
Hansen Wagon & Wheel, while located in the middle of the U.S., is a modern day Abbot – Downing. Annually they receive orders from Wells Fargo to create stagecoaches for the bank to use in parades or displays. Budweiser also commissions their wagons through Hansen and the shop has created wagons for the Days of '76 Museum in Deadwood, S.D.
Currently, Hansen and his staff are working to restore an authentic Montie Montana Mud wagon. Montie Montana was a trick roper during the 1950s – 1970s. He was a character, once roping President Eisenhower in his inaugural parade.
Having wagons enter his shop with so much history is pleasing for Hansen because the staff has all worked hard to become the premier builders of historic horse drawn vehicles.
"I think we have reached a reputation for being critical, authentic and following that through with each wagon. We are very attune to the attributes of the vehicles of 100 years ago," says Hansen.
Hansen Wheel and Wagon will be at this year's Black Hill Stock Show with a display in the Rodeo Zone (ice arena). Stop by to see a wagon of yesteryear, wagon gear and visit with Hansen and staff. Also visit them online at
www.hansenwheel.com.