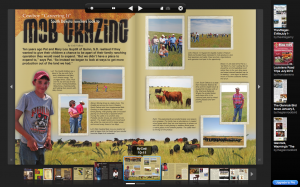 In 2009 I had the opportunity to visit with nearby ranchers Pat and MaryLou Guptill. The couple is very aware that their land is the key to their cowherd's success and ultimately the success of being able to bring back the next generation of ranchers. Because of this, they have looked to building better soil and mob grazing is one way they have set out to do it.
The photo essay on the Guptill Family appeared in the September 2009 issue of Open Range Magazine based out of Wyoming.
If you would like to learn more about the Guptills or are interested in their story for your own publication please contact me at cmills@goldenwest.net.