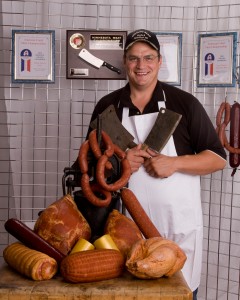 Artisanal meat products trending
By Codi Vallery-Mills
A trend has emerged in the retail food sector – food has replaced art as high culture. Coastal residents and even those here in the heart of America are taking serious interest in the food they prepare and eat (and the money they spend on it.)
Premier grocery stores like Whole Foods and Hen House are continuing to gain customers at a rapid pace as more and more consumers look for quality ingredients to explore their own culinary skills with.
But when consumers don't have time to cook, and still want quality they are looking to specialty food shops to make it happen.
No one knows this better than Jon Frohling of Frohling Meats in Hecla, S.D. He just ended his time as the president of the American Association of Meat Processors. Traveling across the country for the association has allowed him to see various meat eating trends and one thing is certain – artisanal foods are hot.
Artisanal refers to products that are almost an art form their own. Often specialized, hand crafted and foods not available in larger retail stores. This is where Frohling thinks butcher shops, which have slowly been on the decline in recent years, can make a come back.
"We can offer custom products that you can't get in retail grocery stores. They just don't have the capability," says Frohling.
Don't underestimate his understanding of the retail sector either, as he grew up helping in his family's Jack and Jill grocery store, and today runs that same business along with the butcher shop and a catering business.
What sets his butcher shop apart from grocery stores and even other butcher shops is the products he decided to specialize in and promote. For Frohling it is brats.
Over 400 state, regional and national awards have been bestowed Frohling Meats over the years. Some of those have been for the company's unique brat creations. Over 60 different varieties – including pineapple, wild rice and dill pickle brats – are available for customers to choose from.
"We do a lot of wild and crazy things here. Unique things that others can't do," says Frohling. "That is what butchers shops have to do now, pick one signature item and market it. For us it's the flavored brat."
He reiterates that he believes providing specialty items are the way more butcher shops will do business in the future.  Even in small rural Hecla, gone are the days of Frohling's customers asking for roasts and soup bones for their crockpots. Instead farmers and ranchers are asking for other options for their meats. For example, a nice cut of beef wrapped with spinach and feta cheese perfect for preparing at home for a special occasion.
"The items you may find in the fancier part of a grocery store, that is the service we are providing now," says Frohling.
Other artisanal products trending in the meat industry right now include various Italian sausages. Frohling Meats also makes these products but the long process in which it takes to create such high-end sausages calls for a higher retail price tag as well.
He also says the ready-to-eat category of meat products is huge with consumers. "Our generation is wound up so tight the crockpot is not a reality anymore because people don't have time for it," says Frohling.
What is certain is that consumers are looking to other places than just the big box stores for their produce, dairy, breads and meats. Niche markets have potential for great success.
First appeared in The Cattle Business Weekly newspaper